Kerala Body Massage is one of the basic therapy in Ayurveda. More commonly known as "Abhyangam". Its part of "Snehan-Kirya".
The basic aim of Massage or "Snehanan" is to bring forth the vitiated doshas from their latent state and then prepare the body to eliminate them. This is also the 1st step of Detoxification i.e. elimination of toxins from body. Usually, its recommended to have Steam ("Swedan") in the steam chamber after massage.  As per Ayurveda texts – This type of Snehan + Swedana karma is said to be the "Purvakarma of Shodhan".
If you are new to Ayurveda and want to try 1st time, then we recommend to opt for Snehan + Swedan at Ayulife. It will fully rejuvenate and relax your body.
Types of Massage
Rejuvenation massage – Abhyangam
Pain Relief – Potli Massage
Dry Powder Massage – Udvartanm
Abhyangam is a Sanskrit word which means application of oil. . It is commonly known as Ayurvedic Oil Massage.  Normal body pains can be cured with Massage – Abhyangam Massage is one of the basic treatment procedure in the Panchkarma and is part of Snehan in Ayurveda. Abhyangam not only prepares the body for Panchakarma, but also helps to mobilize the dosha or morbidity from the periphery toward the core of the body. The doshas get then eliminated through the body orifices.
Procedure of Abhyangam: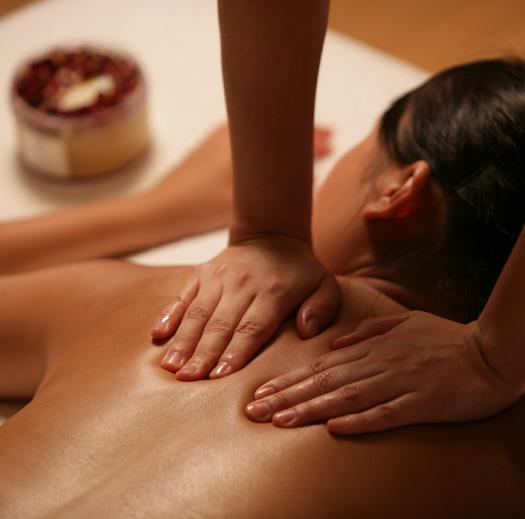 At Ayulife our  therapists use same old techniques as described in  Rigveda to perform the Abhyangam massage. Procedure of Abhyangam
Rubbing of Oil on the body in particular direction.
Kneading of muscles
Long, flowing strokes in the direction of the heart
Deep circular motions
Vibration and tapping
Passive joint movement techniques
Benefits of Abhyangam:
Abhyangam massage offers following benefits.
Increasing the blood circulation
Releases Toxins
Increases Immunity & Stamina
Rejuvenates the Skin Luster
Brings back the Muscle Flexibility
Decreases Muscular Stiffness,
Induce good sleep
Ultimate Relaxation and Rejuvenates the body and mind.
Reduces age related disorder
Post Abhyangam
Due to oil on the body many times individual have tendency to take bath but as per Ayurveda its recommended to wait for some time like one hour as it will help in better absorption of oil and gives the better results. In Abhyangam,  massage of the body is done with warm oil (Oil made of herbs) and its majorly of three types in Ayulife clinic as mentioned below.
Difference in Ayulife Ayurveda Massage from Normal Spas
Per Ayurveda These massages are performed in particular flow which improves the circulation of oxygen in blood and also increases the blood flow to muscles. This way brings lot of medical benefits. Ayurveda Massage is not like Spa Massage but these are medically quite beneficial for the body. At Ayulife Trained and Experienced Kerala Therapists perform this massage and we guarantee you the best of the quality and the environment in our clinics for treatment or relaxation.
Body scrub is other type of massage where in the whole body is massaged with the herbal powder which has abrasive contents. The abrasive materials used in Ayulife clinic is mix of herbal powders and sometimes oil/coconut/curd (according to body type and weather). A body scrub is a skin care product whose primary function is to remove dead skin cells through exfoliation as well as cleanse the skin.
Benefits:
Body scrub helps in removal of dead skin cells from the body
Exfoliating dead skin cells remove dullness of the skin
The removal of dead skin and impurities from skin give quite fresh feelings
Skin looks quite rejuvenated and revitalized
Get smoother elbows and knees
Help prevent ingrown hairs and make hair removal easier
Sometimes a body scrub is referred to as a body exfoliation massage. The exfoliating component needs to  chosen carefully depending upon the body type of person so that it not damages healthy skin.
Post Scrub Massage:
After this therapy sometimes rashes on the skin may appear which in not point of worry and at that time its recommended to apply the body lotion or do some oil massage to keep the skin hydrated.  The body lotion or cream can be applied by the individual at home to soothe the skin
In this Ayurveda Panchkarma Procedure, powdered herbs are used for curing the pain. Special Pain relieving herbs are packed in a particular cloth (wrapped as pouch). These pouches are called potlies. The Potli is heated with special medicated oil that helps in alleviating the chronic pain. This massage is also called Potli, Podi Kizhi, Pattra Kizhi. The Potli is heated in oil to a particular temperature level. The heated potli is applied on the paining area of patient for particular duration. Potli Massage stimulates blood flow, with in the affected area and relives the chronic pain. The enhanced blood circulation not only relives the pain but also strengthens the tissues. Potli is  made of fresh dried herbs and Typical Herbs used in the Potli are:
Ashwagandha – relives stress and improve sleep quality
Mustard and Neem – to detoxify & Skin Care
Turmeric and ginger – to purify mind and body
Lemon and mint – reduces headache
Rice and rosemary – increase blood circulation and ease tensed muscles
Cardamom and lavender – for calming the nerves and giving a refreshing effect.
Usually "Nadi Swedan" is clubbed with this therapy for better results.
The Potli massage is often recommended for following ailments: –
Rheumatoid Arthritis
Spondylitis
Frozen shoulders.
Sports Injury like Tennis Elbow
Computer problems like Mouse Arm etc.
Osteoarthritis.
Benefits of Potli Massage:
Reduces inflammation
Improves mobility & flexibility
Relieves pain and stiffness in joints and muscular spasms
Beneficial in Arthritic Pains